Michael Villeneuve Reflects on a 44-Year Nursing Career
In our Season Two finale of Nurses' Voices, join hosts Gail Donner and Mary Wheeler for an honest and personal conversation with Michael J. Villeneuve, RN, MSc, FAAN, who retired in May 2022 as the Chief Executive Officer of the Canadian Nurses Association (CNA).
Michael reflects on his 44-year career in nursing, sharing how he started out as an orderly and progressed to become CEO of CNA, with many unique roles along the way. Michael discusses the personally challenging choices he made which took his career down paths he never would have thought possible, what he's learned during his many years in the profession, and his thoughts on how to ensure a viable and sustainable nursing future.
Resources:
Thank you for enjoying Season Two of Nurses' Voices! We wish to thank Pfizer Canada for their sponsorship of this season, to the Canadian Nurses Foundation and the Canadian Nurses Association for their ongoing support, to all our guests, whose stories we have been honoured to share and to everyone who helped make the past two seasons a success. Finally, thank you to all our viewers – we hope you enjoyed the stories of some remarkable nurses across Canada this season. Please share Nurses' Voices with friends and colleagues, and stay tuned for news about Season Three.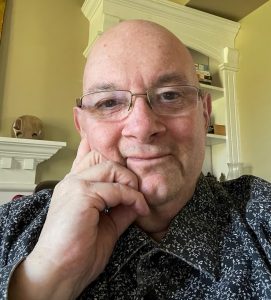 Michael J. Villeneuve, M.Sc. RN FAAN
From Michael:
I have worked in health care for 44 years, starting as an orderly in 1978 and retiring as the chief executive officer of the Canadian Nurses Association in March 2022. I was a registered nurse for 39 of those years, and has worked across all domains of nursing practice. 

My career fell roughly into two major phases, with the first half focused in and around clinical settings including neurosurgery, neuro-ICU, trauma, critical care, and plastic surgery at Sunnybrook Health Sciences Centre in Toronto. In those areas I worked as a staff nurse, nurse educator, nurse clinician, clinical nurse specialist and patient care manager, and also spent an exciting year working in primary care at God's Lake First Nation in Northern Manitoba. The past 22 years found me in Ottawa, where I held progressive roles in nursing and public policy with Health Canada, the Canadian Nurses Association and as principal of my own consultancy, Michael Villeneuve Associates. I served as chief executive officer of CNA 2017-2022, a role which I would call the absolute best job of my career, and that's a pretty good way to go out!

During my time in Ottawa, I worked to shift the narrative about nursing and by nurses, contributing ideas about nursing leadership, education, policy and practice. As CEO of CNA, I oversaw the establishment of the Canadian Academy of Nursing to evolve a hub for nursing leadership in Canada. I've worked diligently to place nursing firmly at the centre of public policy deliberation and development, and one of the results of that strategy was the positioning of CNA in the Top 100 Lobbyists in Ottawa regularly since 2018. I also had a lead hand in CNA's work to combat racism and discrimination in nursing, now funded by CIHR for a rigorous study of this injustice and what solutions might be put in place to defeat it. 

I have a bachelor's and master's degrees from the University of Toronto. In recognition of my contributions to nursing and health care, I was inducted as a Fellow of the American Academy of Nursing in 2019 – and in June 2022, I was very honoured to join my predecessor, Dr. Helen K. Mussallem (CEO 1963-1981), in being awarded an Honorary Fellowship in the Royal College of Nursing of the United Kingdom.
Watch other episodes of Nurses' Voices!