Advocating for Harm Reduction with Leigh Chapman
In our latest episode of Nurses' Voices, join Gail Donner and Mary Wheeler as they have an honest and personal conversation with Leigh Chapman, RN, PhD, Adjunct Lecturer, Graduate Program at the Lawrence S. Bloomberg Faculty of Nursing at the University of Toronto.
Leigh shares the story of her brother Brad, who died of a drug overdose and homeless at the age of 43. After this, Leigh became an advocate for harm reduction amongst those experiencing homelessness, in order to reduce stigma and discrimination and increase care. Her journey has been challenging both personally and professionally, and sharing this story will hopefully encourage other nurses to help with meaningful causes that are important to them.
We would like acknowledge National Nursing Week 2022, taking place from May 9th – 15th. We are extremely thankful for all that nurses do, this week and every week!
We wish to thank Pfizer Canada for their sponsorship of Season Two of Nurses' Voices, and to the Canadian Nurses Foundation and the Canadian Nurses Association for their ongoing support.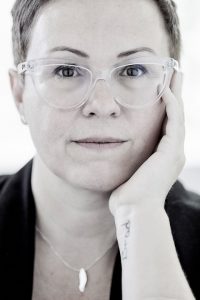 Leigh Chapman, RN, PhD
Adjunct Lecturer, Graduate Program, Lawrence S. Bloomberg Faculty of Nursing, University of Toronto
From Leigh:
My mother was an operating room nurse for the first heart transplant in Canada. After years of hearing her excitement about this frontline clinical work over the dinner table, I vowed that I would never have a career that had anything to do with healthcare! After my Degree in Spanish and Anthropology, I wanted to travel the world, knowing that I would eventually return to school. My travels led me to India and Central and South America and eventually back to nursing school. I wanted to make a difference in peoples' lives and the best way that I knew how to do so was through a career in healthcare. I completed my BScN at McMaster in 2003, graduating during SARS, and immediately started working in the Intensive Care Unit at McMaster Hospital. I loved this work – the complexity of care, the collegiality and teamwork, and the direct impact we had on the lives of patients and their families in this acute, tertiary care environment.

I accelerated my career by completing my Masters, while working clinically in the ICU and also as a teaching assistant. I had the privilege of being a faculty member in the inaugural RPN-to-BScN pilot program at McMaster and then eventually started working at the College of Nurses of Ontario from 2005-2007. I then took another provincial nursing job working at the Registered Nurses Association of Ontario as a Manager in the Centre for Professional Nursing Excellence. The breadth of this role, working in all sectors of the health system, led to the pursuit of my PhD. Yet, the detours along the path to completion of my PhD were some of the most transformative learning opportunities of my lifetime.

My older brother Brad died at age 43 of a drug overdose after years of experiencing homelessness and cycles of incarceration. After my brother died in 2015, I initially dipped my toe in advocacy for the care of people experiencing homelessness and harm reduction as an invited guest into this space, an experience I likened to that of an "accidental advocate". This initial advocacy led to me fully immersing myself in harm reduction, as a pathway out of the deep grief that I experienced after Brad died. In 2017, I founded the Toronto Overdose Prevention Society fundraiser and co-organized the Moss Park Overdose Prevention Site, an unsanctioned site in the middle of an urban park in Toronto. We operated this site with a volunteer workforce from August 2017-July 2018 – an experience that saved countless lives, changed the course of harm reduction in Ontario, and demonstrated how quickly we can innovate to provide a valuable service in a time of crisis.

Although my 19 year nursing career has not followed a straightforward path, I am so grateful for the experiences I have had to date and for the breadth of experiences that have shaped me as a leader in this profession. Advocacy is at the core of the therapeutic nurse client relationship yet we have work to do in the profession to amplify the voices of nurses in the public arena and champion the contribution nurses make to the healthcare system and to society at large everyday.
Watch other episodes of Nurses' Voices!