The Incredible Resilience of Critical Care Nurses During COVID-19 with Lisi Aldaba and Miriam Biju
Watch and listen to our latest episode of Nurses' Voices as Gail Donner and Mary Wheeler get a personal, inside view into intensive care units during the COVID-19 pandemic from critical care nurses Lisi Aldaba and Miriam Biju.
In this episode you'll see how Lisi and Miriam dealt with the devastating effects of the COVID-19 waves throughout the pandemic, including the immense stress on them and their families and how care was compromised in hospitals, yet how they continued to make connections with patients during this incredibly challenging time. COVID-19 has been exhausting and draining for nurses, but they continue to persevere and give the best care possible for patients. Watch and listen to Lisi's and Miriam's stories now.
Please watch on YouTube or listen on Apple Podcasts, Spotify, Amazon Music or Google Podcasts using the links below. And if you enjoy the episode, please rate us and subscribe!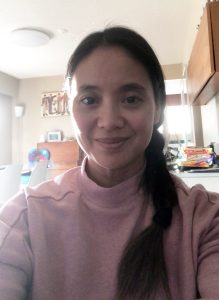 Lisi Aldaba, RN
Staff Nurse, Intensive Care Unit
Royal Columbian Hospital
New Westminster, BC
From Lisi:
Near the close of my senior year in high school, I was faced with a decision that would change my life completely. I found myself tabling three offers: one to a nursing program and two to a general science program, at the local universities. Like every reasonable 18 year old, I chose the program at the university where my friends were going…turns out, it was likely the universe steering me in the right direction. The universe through some curve balls my way, but after graduating from BCIT in 1998, I knew I made the right choice.

I was meant to be a nurse!

My nursing career has taken me through the depths of ER and to the ICU, which is my current home in the nursing world. With 22 years of nursing, two kids & all things life brings under my belt, I can honestly say that I still love being a nurse. Where things go from here, only the universe knows…but that's the beauty of nursing, there are so many avenues & adventures at every corner.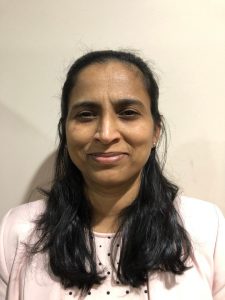 Miriam Biju, RN, BScN
Staff Nurse, Intensive Care Unit
Surrey Memorial Hospital
Surrey, BC
From Miriam:
I am a critical care nurse today and have been one for the last 25 years. After graduating nursing and working in India for a few years, career opportunities facilitated travel with employment to Singapore, the United Kingdom and Canada.

My first job in nursing was in a pediatric post-op cardiothoracic intensive care unit as a fresh graduate with lots of in-service education and training, which has paved way to be a critical care nurse till today. I believe that learning never ends and new knowledge is not only from literature and research articles, but also from what happens at every bedside. Each assessment, interpretation and caring is a learning experience. As much as I try to share my bedside critical care nursing knowledge to critical care students, I also find that I learn something from them and all the multidisciplinary teams around me too.

For all that I have benefited from being an ICU nurse, I want to show my gratitude by continuing to be one worthy of its call.
Watch other episodes of Nurses' Voices!