Starting a Nurse's Journey: From Nursing Student to New Grad with Rebecca Gustafson and Czarielle Dela Cruz
In our final episode of season one of Nurses' Voices, join hosts Gail Donner and Mary Wheeler as they talk with Rebecca Gustafson, a current nursing student and Czarielle Dela Cruz, a recent nursing graduate, both from Ryerson University.
Watch and listen as Rebecca provides an extremely honest look into what it has been like to be a nursing student during the upheaval of COVID-19. And, learn how recent nursing graduate Czarielle has navigated the pandemic at the onset of her career at the bedside. In both their situations, their resiliency and love of the nursing profession has kept them going strong. Watch and listen to their stories now.
We sincerely thank you for being a part of season one of Nurses' Voices, where we've spoken with 24 incredible nurses. And we're excited to announce that we're going to be back for season two! Be sure to sign up for our newsletter and you'll be the first to know when we will be hearing other compelling Nurses' Voices.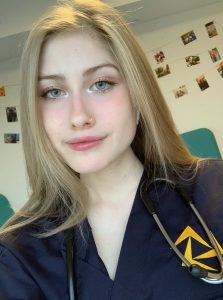 Rebecca Gustafson
Nursing Student, Ryerson University
Toronto, Ontario
From Rebecca:
I am in my second year of Nursing at Ryerson University. I currently reside in Toronto, but I have lived in British Columbia all my life. People always ask me why I moved across the country to continue my education when there are amazing universities close to where I live, and the answer is simple: I wanted an adventure. Growing up, I knew I wanted to leave my city and live somewhere new. There was something exciting about the idea that I could meet new people and create new memories in a different place. I think that mindset is what drew me into Nursing, that each shift was an adventure, and I had the ability to connect with people from all different walks of life. Currently, my plans for my future are to finish my Bachelor of Science in Nursing and then to continue my Nursing education by getting a Master's degree. Even though I am still new to Nursing, I have fallen in love with the profession, and I am excited to see where my Nursing journey takes me!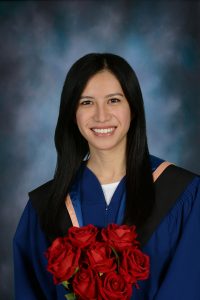 Czarielle Dela Cruz, RN, BScN
Nursing Resource Team, University Health Network
Toronto, Ontario
From Czarielle:
My name is Czarielle Dela Cruz and I graduated in June of this year (2021) from the Ryerson Centennial George Brown Collaborative Degree Nursing Program. I went into nursing with a caring heart and passion looking after others, and I came out of school in awe, learning all the possibilities nursing has to offer – convinced in the career I had chosen. I dabbled in nursing research in school, had a good variety of placements, led nursing student groups, but I couldn't decide where I wanted to be – I love and want to learn about all nursing specialties – and so that's how I ended up where I am now. As a student, I worked at University Health Network as part of the Nursing Resource Team and I decided to transition into the Nursing Resource Team (NRT) as a medical surgical float RN because I knew I would learn to be a well-rounded nurse. It has been challenging, but there is indeed so much I am learning and I know that I will be a better nurse if I can make it through this. Overall, I am excited to ride the wave (no COVID pun intended) and find out where my career will take me!
Watch other episodes of Nurses' Voices!