Karen Lake's Journey to Nurse Entrepreneur
Join Gail Donner and Mary Wheeler in an engaging conversation with Karen Lake, RN, BN, Caregiving Consultant and Care Navigator in Fredericton, New Brunswick.
After a 25 year career as a Registered Nurse in various roles including her last role as a manager in home health care, Karen launched her own caregiving consultancy focused on helping people navigate the complex issues of caring for aging loved ones. Karen tells us how she reinvented herself as a business owner and establish a second career after a challenging end to her management position. Karen shares insights about becoming a business owner and lessons she's learned being an entrepreneur while embracing a more fulfilling career path.
Resources:
The Founder's Journey –

Free course for new entrepreneurs that

guides participants from early ideation to opportunity development, with insights on how to nurture and grow a new business.
We wish to thank Pfizer Canada for their sponsorship of Season Two of Nurses' Voices, and to the Canadian Nurses Foundation and the Canadian Nurses Association for their ongoing support.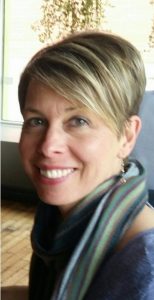 Karen Lake, RN, BN
Caregiving Consultant and Care Navigator
Fredericton, NB
From Karen:
I proudly work as a professional Caregiving Consultant and Care Navigator; called to offer this service to families after working as a Registered Nurse in Home Health Care for 25 years.

I have a special passion for supporting, guiding, and directing family members to be the best they can be in their caregiving role, to help them make informed choices, to be prepared and to confidently navigate the complex issues that come with caring for a loved one.

I have seen the emotional struggles that family members face as they attempt to balance caregiving with the other demands of life; children, career, retirement and illness. And so, I have made it my mission to serve and support family members of aging loved ones in the Fredericton area, and beyond.

Gathering my years of experience and expertise, I have carefully crafted comprehensive programs that are tailored to meet each family's specific needs.

When not supporting my clients, I collaborate on other projects, such as the first ever Death Expo in Atlantic Canada, Caregiver Wellness Retreats, Caregiver Wellness Expos and have more recently ventured into the world of research working on several projects that support Family Caregivers.
Watch other episodes of Nurses' Voices!