Inspirational Nursing Leadership with
Irene Andress
In our newest episode of Nurses' Voices, Gail Donner and Mary Wheeler have a thoughtful discussion with Irene Andress, RN, MN, Vice President, Programs and Services and Chief Nursing Executive at the Holland Bloorview Kids Rehabilitation Hospital in Toronto, Ontario.
Irene discusses her current role in nursing leadership at Holland Bloorview Kids Rehabilitation Hospital and how she is able to influence change at the point of care. By being visible, accessible, creative, and innovative, Irene discusses how she is able to open doors and remove barriers in order to improve patient care and address the ongoing staffing crisis in nursing.
We wish to thank Pfizer Canada for their sponsorship of Season Two of Nurses' Voices, and to the Canadian Nurses Foundation and the Canadian Nurses Association for their ongoing support.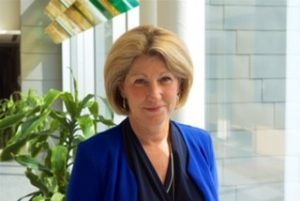 Irene Andress, RN, MN
Vice President, Programs and Services and Chief Nursing Executive, Holland Bloorview Kids Rehabilitation Hospital
Adjunct Faculty, Lawrence S. Bloomberg Faculty of Nursing, University of Toronto
Toronto ON
From Irene:
Truth is, I don't know why I chose nursing as a career. Call it divine intervention! I suspect it's not that different from today: kids make career choices often based on what their friends are doing or going and hopefully based on strengths that they have developed.

As a daughter of immigrant parents, I had clear boundaries to stay within. My parents were committed to higher education and ensured that I had the resources to support my choices – In fact, I remember my dad's words … "you can go to the university of your choice so long as it is south of Steeles and within the greater Toronto area!"

I loved working with kids and I gained my love of leadership through many summers working as a camp counsellor at the YMCA. I experienced living the zone – the work was hard but the days/summers would fly by! This was probably when I learned the most about resilience, fun and hard work.

I have a deep commitment to my family. Both my parents have passed but I spent many years navigating the healthcare system – my mom through her cancer diagnosis, treatment and then living with cancer and my dad through his dementia diagnosis – harder to diagnose, almost impossible to treat, and what was heart breaking was watching his decline in a system so ill prepared to support him. Fortunately, the pre-COVID world allowed me the opportunity to access excellent long-term care and I am eternally grateful.

I have always put my family first. I have a terrific husband of 32 years and three boys – 22 years old and twins who will be 20 next week. They consumed my life as I was also navigating my leadership career in nursing. I made it work because of great family support and my drive to stay in action, be resilient, and future oriented. Recently, I have also come to recognize that I am a privileged white woman and appreciate that others today may not have the same resources to draw on.

I have been committed to person-centered care … at all times in the life journey. I continue to be committed to lifelong learning – always challenging myself to take on the next opportunity. Moreover, I have developed my passion for living in the grey zone – looking deeper into what might be and embracing the polarities and paradoxes of life – both / and thinking.

Now, in my late career, I am removed now looking to nurture, mentor and support the leaders of tomorrow. I strive to share what I know and share my passion for nursing, teamwork, the pursuit of knowledge/knowing and embracing change for the sake of making the world a better place.

Finally … to reference two inspirational nursing leaders (Harris & Donner, 2021) … "What if … we came together as a profession with a focus on the one thing that we all have in common: patients/clients and their well-being". There has never been a better time to innovate and to engage all nurses in the transformation of health care – as a profession we have nothing to lose and a future to gain.
Watch other episodes of Nurses' Voices!