Indigenous Health, Healing and Racism with Tanas Sylliboy
Join hosts Gail Donner and Mary Wheeler for a compelling conversation with Athanasius "Tanas" Sylliboy BScN, MN, NP, ENC©, of Eskasoni First Nation, a Mi'kmaw Primary Care Nurse Practitioner in Millbrook, Nova Scotia.
Watch and listen as Tanas discusses his practice of Indigenous health and healing, and how racism persists in the healthcare system and stands in the way of equitable access to care amongst racialized communities. As Tanas so eloquently told us, "all individuals are worthy of care, yet there is still much work to be done to ensure access without discrimination. As such, we have a responsibility to bring more voices to the table in order to advocate for and achieve meaningful change."
Critical resources:
We wish to thank Pfizer Canada for their sponsorship of Season Two of Nurses' Voices, and to the Canadian Nurses Foundation and the Canadian Nurses Association for their ongoing support.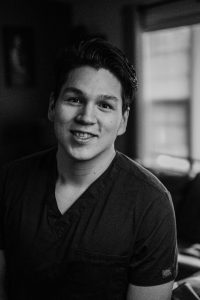 Athanasius Sylliboy BScN, MN, NP, ENC©
Mi'kmaw Primary Care Nurse Practitioner
Millbrook, NS
From Tanas:
I have been practicing nursing for what is now going on for 7 years, in multiple different facets of nursing including emergency pediatric and adult care, community and home care, and youth mental health. I now work as a Mi'kmaw Nurse Practitioner, in a rural Mi'kmaw community called Millbrook in Nova Scotia.

This is going to sound very dark, but when I was younger I spent a lot of time travelling with my parents to visit people from our communities who were dying at home, or at the palliative care unit. I remember each moment the nurse was asked to be with the families, as the person took their last breath, or when they requested something for comfort. I remember thinking, "wow, I wish this is something I can do one day". But realized that maybe it wasn't something possible, because throughout my childhood I have never seen any Mi'kmaw or Indigenous nurses working in hospital settings. This today even speaks to me now, the importance of visibility of Indigenous people, and other racialized communities in healthcare. To be able to see ourselves in this profession, and to be able to feel comfortable in accessing health services that represent and include us.

Eventually, when I did become a Registered Nurse, I realized that there was so much not being done to improve care or access for racialized communities. That some nurses and physicians weren't educated on the harms Indigenous people have endured such as the Indian Residential School system, and the effects of systemic and institutional racism. The harms of racism in healthcare ultimately stolen the lives of many Indigenous people including Brian Sinclair and Joyce Echaquan. This is why I am passionate about making meaningful change in healthcare through advocacy and education, to ensure we do not become another statistic.
Watch other episodes of Nurses' Voices!