Educating Tomorrow's Nurses with Rani Srivastava
Join hosts Gail Donner and Mary Wheeler as they talk with Rani Srivastava, RN, PhD, FCAN, Dean, School of Nursing at Thompson Rivers University, Kamloops, B.C., Adjunct Professor School of Nursing at York University, Toronto, Ontario, and Adjunct Professor School of Nursing at Dalhousie University, Halifax, Nova Scotia.
Watch and listen as Rani discusses with Gail and Mary the state of nursing education in Canada and its potential for the future. The country needs nurses, and people want to become nurses, but challenges remain to provide well funded quality education, with qualified faculty and sufficient supports to students. Hear Rani's thoughts on what needs to change to attract and maintain nursing students and nurses in practice through attention to diversity, inclusion and innovation and her hopes for the future.
We wish to thank Pfizer Canada for their sponsorship of Season Two of Nurses' Voices, and to the Canadian Nurses Foundation and the Canadian Nurses Association for their ongoing support.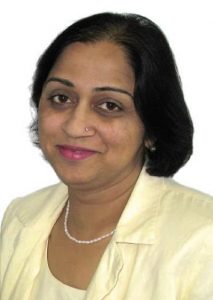 Rani Srivastava, RN, Phd, FCAN
Dean, School of Nursing, Thompson Rivers University
Adjunct Professor School of Nursing, York University, Toronto ON
Adjunct Professor School of Nursing, Dalhousie University, Halifax, NS
From Rani:
I entered Nursing in 1977 with very little knowledge and thought about what the profession actually entailed; however, from the first day of nursing school Nursing has captivated me and shaped me as a person, a professional, a parent, an educator, and a leader.  Nursing is a practice discipline with a strong foundation in science and theory but the magic happens in how knowledge and understanding is applied to ensure respect, relevance, and effectiveness.  Nurses, like educators and leaders, are enablers and facilitators who use their knowledge, skill, and expertise in nuanced ways to support others in achieving their goals. 

During my 40 year nursing career I have had the privilege to work in varied specialties – from pediatric critical care to adults with chronic illness to mental health.  Each specialty has brought out unique dimensions to the art of Nursing.   My career has shifted back and forth between academia and practice.  The shift is reflective of my belief that nursing education and nursing practice are reflective of two sides of the same coin.  Over the years my career has reflected a focus in three major areas:  

Strengthening the linkages between practice, education, and policy to achieve excellence in care;
Integrating issues of equity, diversity, and inclusivity into day to day practice, at the individual as well as organizational level;
Creating sustainable work environments which foster clarity of purpose, professionalism, and accountability through facilitation, leadership, and mentorship.

As I reflect on my career and what the future holds, I am filled with gratitude towards a profession that continues to afford me ongoing opportunities to grow, learn, and share.
Watch other episodes of Nurses' Voices!